Scuba Gear and Equipment Service

Scuba service you can count on
Force‐E Scuba Centers is an authorized service representative for most major brands of dive equipment. Our service technicians have many years in the industry and have received certifications and training to perform quality work on your scuba equipment. Our service department complies with the manufacturer's warranty, uses the correct repair parts which are almost always in stock and we guarantee the work performed on your equipment. Most manufacturers recommend you have your dive gear inspected and/or serviced once a year or every 100 dives, whichever comes first.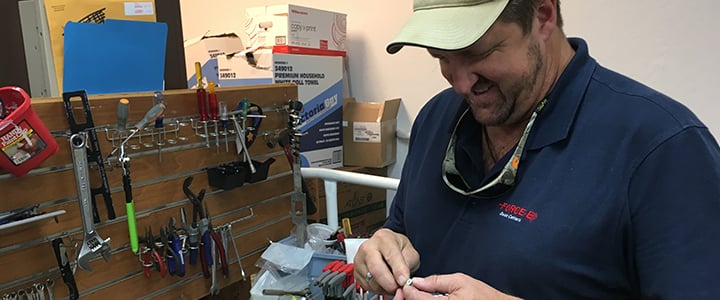 Why have your equipment serviced by an authorized service center?
This often complies with the manufacturer's warranty
The right parts and service kits are used
The technician is trained to repair your specific equipment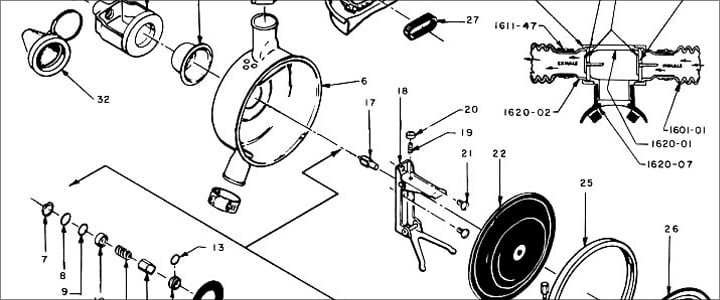 Warranty Service
We offer authorized warranty service on Aqualung, US Divers, Oceanic, Mares, Tusa, SeaQuest, Cressi, Sherwood, Apeks and Dive Rite. We also service Scubapro, IDI, Zeagle, Poseidon and Beuchat. There will be no charge for parts if the Warranty Card is included and indicates that it is up to date and in effect.
Equipment Service Price list
Wholesale service prices are available for dive stores, dive professionals and dive clubs. Please send us the name of your organization, your website and or professional credentials for a quote.
1st and 2nd, octopus, and pressure gauge (3 piece)
1st and 2nd and Pressure gauge (2 piece)
1st or 2nd or octopus or pressure gauge (1 piece)
Buoyancy Compensator
BC with integrated second stage/Inflator combos
Tank Valve (type K)
Tank Valve (type J)
Manifolds (per valve)
Add for Oxygen clean regulators
Add for Oxygen clean valves
Battery Change
Spare Air service
Rush charge per item
$60.00 + Parts
$50.00 + Parts
$30.00 + Parts
$30.00 + Parts
$45.00 + Parts
$20.00 + Parts
$25.00 + Parts
$20.00 + Parts
$10.00 per stage
$10.00
$15.00 + battery
$65.00 (cost includes parts)
$15.00 per item (with approval)
Send in your equipment for Service
You may ship your equipment to us for service. Make sure your equipment is sufficiently padded to avoid damage in shipment. If this is warranty service, include all appropriate warranty information as indicated in your owners manual. If this information is not included, we will process your order as non-warranty service. (If you have any questions about what information is required, please feel free to contact us. We accept regulators for complete service only. We will replace all soft parts and seats and clean and tune the regulator to manufacturer's performance specs. To make it easy, click on the sevice form, fill out the details and print! Include this in your shipment and your all done.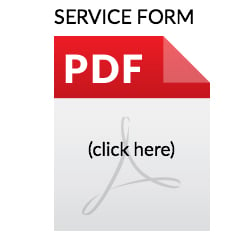 Send the package to:
Force-E Service
155 E. Blue Heron Blvd.
RIVIERA BEACH, FL. 33404
P: (561) 845-2333
REQUIRED:
Include your contact information including name, return address, telephone number and/or email address so that we may contact you if necessary. We will not perform any services, which require expenditures over $90 without your prior approval. Include payment information such as VISA, MasterCard, Discover or American Express card number, name of cardholder, and expiration date along with your signature to authorize the processing of your order.
Ship, Service & Save!
Ship it to us, we'll service it, you dive it, we'll ship it home! Here's what you do:
Before your next dive trip to Florida, send us your scuba equipment to our service department. Schedule your service with our store, come in before you go diving, and pick up your gear. After your done with all of your diving, just bring your equipment back to our shop, and we'll ship it back to your home at no additional cost! Contact your favorite Force-E location for more details on the Ship, Service & Save plan.
We accept shipments via any carrier. We recommend a commercial delivery service such as UPS or RPS, Federal Express over the U.S. Postal Service. We will return ship your equipment within seven business days of receipt. You pay for shipment to us, we pay for shipping back to you. You may get rush service for an additional charge. Please email-mail us for rush information. Please contact us if you have a brand not named above.